iPad Will Appear at Verizon and AT&T stores On October 28th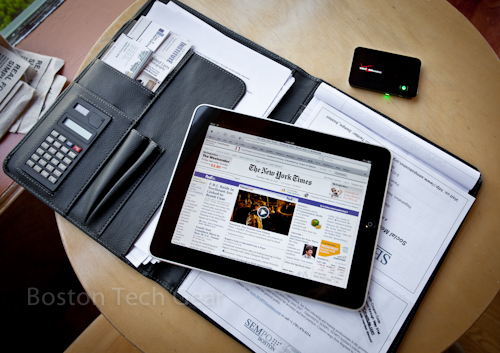 Yesterday Verizon and AT&T announced that the iPad will appear in their retail stores in two weeks, on October 28th.
Verizon will be offering only WiFi-enabled iPads that will be optionally bundled with MiFi 2200 Intelligent Mobile Hotspot Routers (which is showed on the image above). The latter allows up to five users to access the Verizon Wireless 3G Mobile Broadband Network via Wi-Fi. The monthly data access plan for 1 GB of data will cost 20$/month.
Chief operating officer of Verizon Wireless John Stratton is excited about this new offer:

"This is the perfect pairing for holiday travels. iPad together with the nation's largest and most reliable 3G data network allows customers to easily connect on the go wherever they are."
The prices for the device in Verizon brick-and-mortar stores are next:
iPad WiFi 16 GB + MiFi - $629.99.
iPad WiFi 32 GB + MiFi - $729.99.
iPad WiFi 64 GB + MiFi - $829.99.
2,200 AT&T stores will also begin selling iPad on October, 28.  The device will be available with one of the two 3G pre-paid data plans: $14.99/month for 250 MB of data and $25/month for 2GB of data, both with no term contract. The prices for iPad will be the same as proposed by Apple:
iPad WiFi + 3G 16 GB - $629.
iPad WiFi + 3G 32 GB - $729.
iPad WiFi + 3G 64 GB - $829.
Apple's chief operating officer Tim Cook explains why the company wants to expand the iPad's availability on the market:
"We look forward to expanding the reach of iPad, allowing even more customers to experience the magic of iPad for themselves. As we approach the holiday season, we are very happy that customers will now be able to buy iPad Wi-Fi + 3G at AT&T Stores."

Leave a comment