iPad will drive 50% of Apple's growth in 2011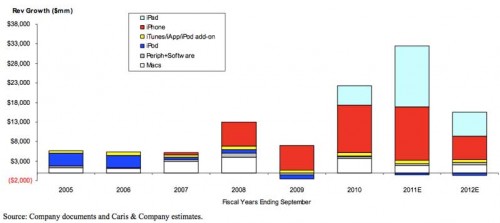 Caris & Company analyst Robert Cihra today published a note to investors where he appraises Apple's growth as "stunning" and says that iPad will cause approximately 50% of all growth for the company in 2011.
He explains that Apple's success was reached by effective approach through innovation, while the company's competitors are lost "in a sea of otherwise commoditized hardware".

Here are other interesting assumptions Cihra revealed in his note:
In the December quarter Apple will sell 6.7 million iPads.
32 million iPads will be sold in fiscal year 2011, thus causing 50% of the company's financial growth.
64 million iPhones will be sold in fiscal year 2011, which will account for more than 40% of Apple's year growth.
Mac platform will make only 5% of the company's growth, though its sales will be increased by 19%.
Caris & Company expects AAPL stock price to rise from $375 to $400.
At the end of calendar year 2010 Apple will sell 157 million iOS devices which will make the company's mobile OS "one of the world's most pervasive operating systems".
Here is what Robert Cihra thinks about iPad:
"A product that didn't even exist a year ago... now leads an entire charge to thin-client access/computing architecture..."
He also says that iPad is "igniting an explosion toward 'thin-client' access computing, with Apple's most extensible advantage its lightweight iOS software and apps ecosystem."
In fiscal year 2010 Apple has increased its capital expenditures by more than 100% and in 2011 it will be increased by 55% again, up to $4 billion. Part of that money will be spent on the company's massive retail extension. In 2011 Apple is going to build 40 to 50 new stores which will account for nearly $600 million.

Leave a comment