iPhone 4 is the most difficult product to buy in China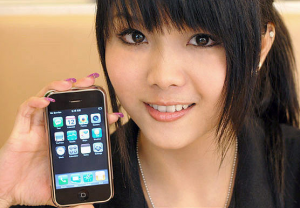 Ticongera Securities analyst Brian White provided another update for investors while touring the Far East. In his note he says that iPhone 4, iPad and 11-inch MacBook Air are the most difficult products to purchase in China.
Local carrier China Unicom cannot fulfill almost a third of preorders, and people wait for their devices for around two months. That creates wide growth opportunities in China, and White says Apple's interest in this market is definitely positive.

"Most of the carriers agree that the high-end smartphone opportunity in China is approximately 100-125 million subscribers, which we view as the addressable market for the iPhone".
China Unicom started offering the iPhone in September, and first four days had led to 100,000 of units sold. But after that the problem of limited supply appeared and that forced Apple to require reservations for those who want to buy an iPhone.
It is interesting that most iPhones work on the network of China Mobile carrier, though it's not an official iPhone carrier. To make this even more profitable this company wants to tenfold increase its investments in mobile application developers in the next few months.
Last month China Mobile created a special website where its users can learn how to trim their SIM cards to fit inside iPhone 4 (as you know, it requires microSIM). It is also known that the company is going to produce SIM cards compatible with iPhone 4.
Another China carrier that may become an Apple's partner is China Telecom. White thinks it is "well positioned" to start selling the iPhone in the next year, though it maintains a CDMA-network that is rumored to be supported by Apple's latest handset only in early 2011.

Leave a comment, read comments [1]