iPhone 4S Battery Life Worse for 3G Data and Media as Compared to iPhone 4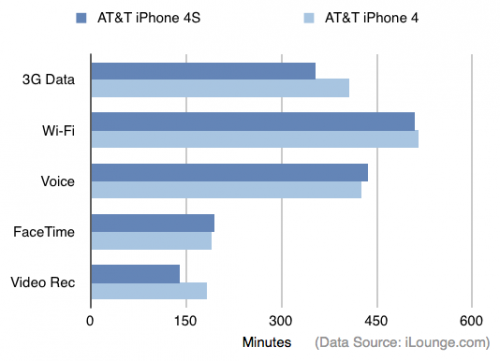 iLounge has tested the iPhone 4S battery life, comparing it with the iPhone 4, and found out several interesting facts. As Apple claims in the iPhone 4S official specifications, the new smartphone has improved talk time but worse standby time as compared to the iPhone 4.
For tests with 3G Data, Audio Playback, Video Playback, and Video Recording, the iPhone 4S came in under the iPhone 4's battery life. For Wi-Fi and FaceTime testing it to be similar to the iPhone 4, and on Cellular Calls, the iPhone 4S is slightly better. Both media playback and recording were advantage of the iPhone 4S, comparing with the iPhone 4. The iPhone 4S is recording much higher resolution video than the iPhone 4.
So, iLoung has made the following conclusion:
If you spend much of your day near a Wi-Fi network and only rely upon the iPhone 4S for web browsing and phone calling, you won't notice a major difference—unless you're thinking of switching to Sprint, in which case we'd be a little concerned. Similarly, if you use 3G data, plan to record or play videos, or want to listen to hours of audio during the day, you can expect greater battery drain from the iPhone 4S.
Noteworthy to say that some users report they experience dramatically decreased battery life on their iPhone 4S. To solve the problem you may calibrate a battery, to drain your entire battery once and then charge to full. Apple provides other tips on its site about the problem.

Leave a comment, read comments [1]