iPhone 6 Plus Explodes While Being Charged

An iPhone 6 Plus unit suddenly exploded while being charged, Apple Daily reporters claim. The incident took place in Tai Wai, Hong Kong. Fortunately, the victim, who is a woman surnamed Tsang wasn't injured.
According to what the reporters write, the iPhone 6 Plus with 128Gb of storage was connected to an electric outlet and placed near victim's bed at about 1 a.m. Next morning, at 8 a.m., the woman was awakened by a loud bang and smoke coming out of her handset. As can be seen on the image below, the protective case of the iPhone is molten and the front panel is badly damaged by the heat.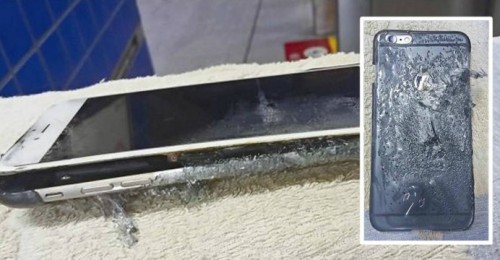 The iPhone was being charged using an official charging cable for the iPad which Apple lists as being compatible with the iPhone as well.

Lo Kok-kung from the Department of Mechanical Engineering at the Hong Kong Polytechnic University said the explosion could be due to a short circuit or overcharging.
The strangest thing in this story is that the victim was using an official certified charger. Previously, there were some incidents with iPhones that involved faulty third-party chargers. It will be interesting to see how Apple comments on this issue.
[via iClarified]

Leave a comment