iPhone For The First Time Took Top Spot For Mobile Web Usage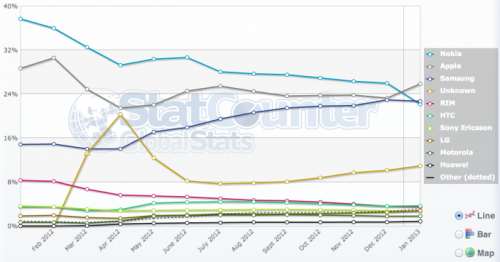 Analytics company StatCounter today published the result of the new research on mobile Internet usage in January 2013. Last month iPhone users held the number one position, while Nokia experienced a considerable decline in 2012.
Nokia's share of mobile web usage decreased from 37.67% in January of 2012 to 22.15% this year, while Apple moved into the number one spot for the first time despite seeing a decline of 2.81%. Apple's iPhones accounted for 25.86% of mobile internet usage last month, down from 28.67% a year ago. Nokia was moved into third place, while Samsung gained 7.85% share and took the number two spot. It is important to note that StatCounter doesn't count iPads as mobile devices.
As for mobile platforms, StatCounter's research showed that Android took 37% of the global OS share last month compared to 33.19% in December. iPod and iPhone held 25.85% of the market, up from 23.26% in December. In contrast to StatCounter, analytics firm NetApplications included iPads in its stats for January that show that iOS accounted for 60.56% of the market during this month (pictured below).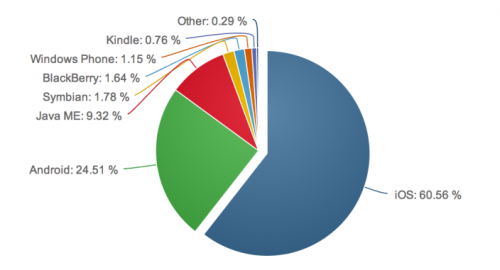 Leave a comment