Lady Gaga to Take Part in New iPhone 4 Commercial?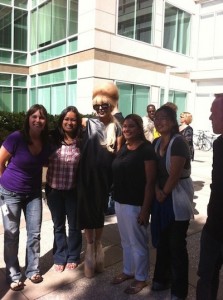 It became known that Lady Gaga, the famous singer, has visited Apple's 1-Infinite Loop Campus in Cupertino, California, where she was photographed behind the main building with the Apple's staff. But what was the purpose of her visit? Do you have the same opinion as we, don't you?
Now it is said that she was probably invited to make a new series of commercials for iPhone 4 about which we have already reported in May. There is also a possibility that she was invited for a small private concert, which Apple organizes from time to time? Nevertheless, soon we'll know about the event in more details.

Leave a comment