New version of AirPrint Hactivator is Available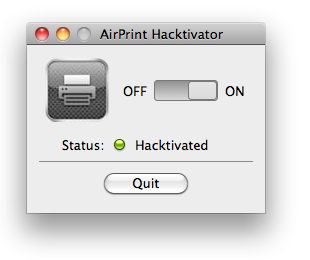 As we wrote earlier, the latest release of Mac OS X 10.6.5 did not include the support for AirPrint, though Apple had earlier announced it. After a while the guys at Netputing released an app called AirPrint Hacktivator, which was simply copying system files from those developer betas of OS X 10.6.5 that had AirPrint support implemented.
But eventually Netputing received an e-mail from one of Apple's legal representatives omm.com,  where it was asked to remove any versions of AirPrint Hacktivator from the company's site as they redistribute Apple's source code.
The guys were forced to agree but have kept a good heart and finally came up with a new solution:

"As of version 1.7 I realized that the only thing needed to make AirPrint work was a single line. Version 1.7.1 now only inject this single line in an existing CUPS configuration file and does not rely in any way, shape or form on 10.6.5 beta files. Hopefully Apple will be fine with the removal of all previous versions from the site and will let me continue to distribute the Apple files free AirPrint Hacktivator 1.7.1 and subsequent versions."
Airprint Hacktivator works well with a Mac OS X 10.6.5 and can be downloaded here.
AirPrint is a feature for Mac OS X that enables support for shared printers in your wireless local network.

Leave a comment