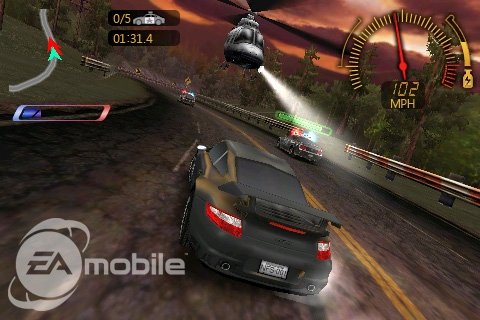 Need For Speed Undercover is perhaps one of the most anticipated games for iPhone and iPod Touch. EA released some new screenshots, here they are: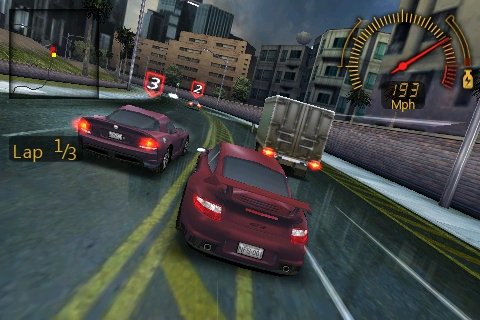 Leave a comment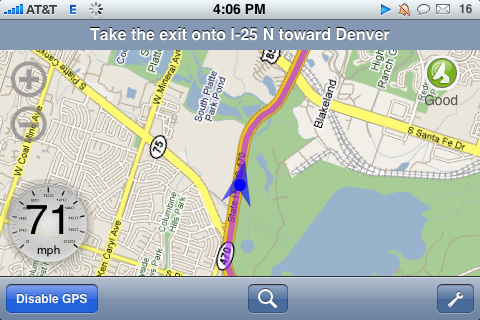 The new version 1.2.7 of xgps is available in Cydia. Here is the list of changes:
fixed problems with directions in Japanese,
the speed is improved,
awaiting between notification sound and voice guidance decreased,
the voice of xgps now works even if the iPhone is in Silent mode,
added new features that let you zoom with a double tap on the map (it does not work yet) and to zoom out with a triple tap on the screen (this should work),
several bugs fixed,
the display of the StatusBar is correced,
displaying the wrong direction bug fixed,
the interaction with the user interface is improved.

Leave a comment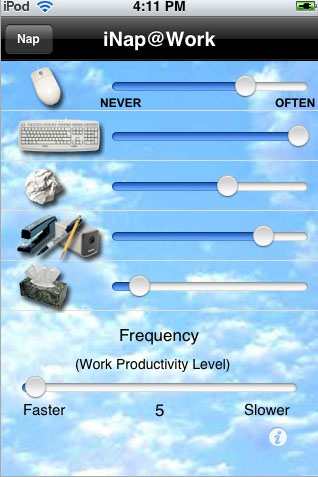 If you don't work at home where you can permanently doze or beat off undetected, iNap@Work provides audio camouflage of papers shuffling, keyboard typing, etc. AppStore link.
via gizmodo

Leave a comment

Here is the iPhone Magnet, a new concept of Adam Hutchinson for the next model of iPhone. Available in two colors, it will have a front camera with support for iChat and Interactive Home button that will change color to give the notification: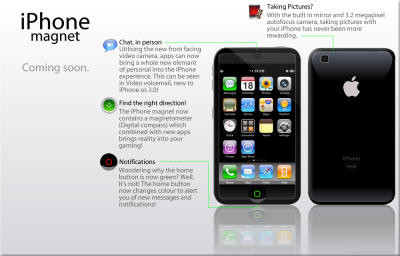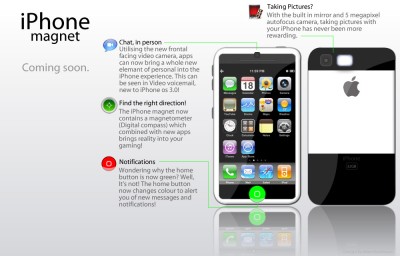 Leave a comment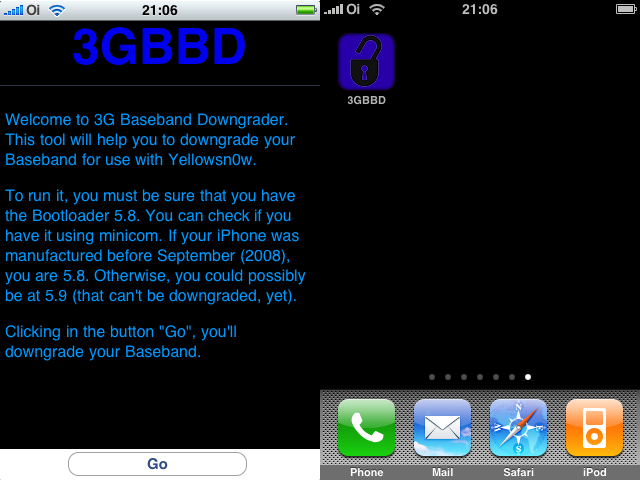 WARNING: This tool is NOT a toy. Just use it if you can't use yellowsn0w on your 2.2.1 iPhone 3G. Otherwise, DO NOT INSTALL IT JUST TO TEST! YOU HAVE BEEN WARNED!
This software is for iPhone 3G users who upgraged to 2.2.1 firmware, but still need yellowsnow unlock. Yellowsnow doesn't work with 2.2.1 firmware's 02.30.03 baseband. So we need to downgrade it to version 02.28.00, that was used in 2.2 firmware. To downgrade it you need this software, that you can install via Cydia. It is very easy to use. Just download it from Cydia (called 3G BaseBand Downgrage), open the app and click Go.
The 3G Baseband Downgrade just works on iPhones 3G with Bootloader 5.8, that can be detected using minicom. If you don't know how to use minicom, there's a "simple" way to know if you are 5.8 or 5.9 (but this is not 100% sure). If your iPhone was manufactured before September (2008), you are 5.8. Otherwise, you are 5.9 (that can't be downgraded).

Leave a comment, read comments [1]

CNet talks about PodToPC software:

Leave a comment

This is a beautiful new app from SnappyTouch. It is offering iPhone users a very polished flower garden experience. Appropriately titled Flower Garden. Avaliable in App Store (link) for $2.99.

Leave a comment


The new 1.2.5 xGPS version will appear in Cydia in a few hours. If you want to try it asap, you can manually download it here.

Leave a comment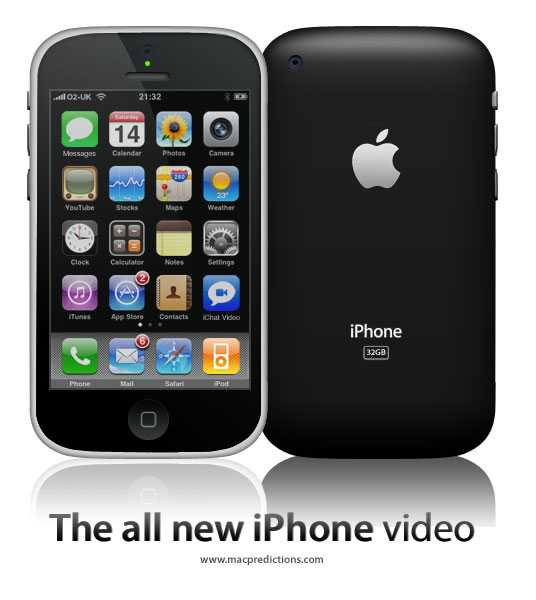 This is a new concept for the next iPhone model called iPhone video. It has very few differences in appearance (which makes it one of the most plausible concept that we have ever seen). The main feature is the front camera with support for iChat Video.  The designers from Macpredictions have also assumed the interface of iChat Video: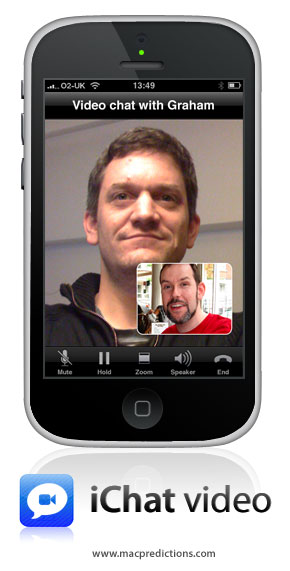 via ispazio

Leave a comment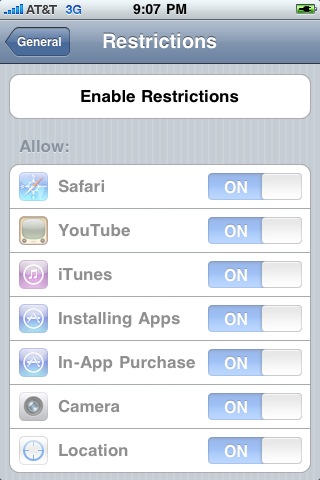 Here is a changelog of new iPhone firmware 3.0 beta 3:
The "Store" entry in Settings App still links to a blank page.
The keyboard background becomes black in every phone number box. It may be a bug.
The Skype app gives an error on its first launch.

Greater overall speed.

Sometimes the SMS sending freezes. It could be caused by the keyboard bug.
Better integration for Push Notifications APIs.
Better Audio APIs (probably for A2DP).
Error correction works better.
iTunes synchronization now requires less time.
Youtube app now works on every device.
The MMS and Tethering old bundle does not work anymore.
Spotlight saves last seach data.
Users can assign home screen.
Parental control.
Users can disable In-App Purchase.
Ability to hide the text of a message just received.

Leave a comment

Leave a comment

Skype is updated to versin 1.0.2. There is a strange message syaing it works on non-Jailbroken devices. In fact, this update is fine with jailbroken iPhones so do not worry.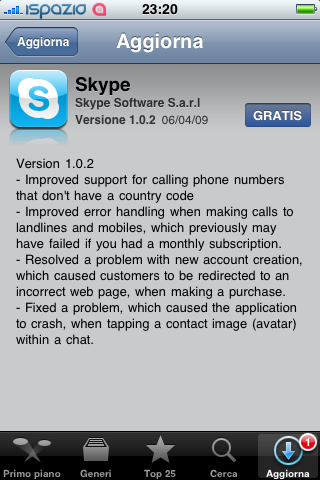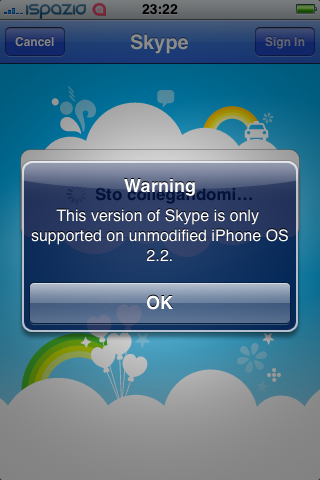 via ispazio

Leave a comment

In light of recent rumors 9to5mac have added two pictures that represent a new concept for future iPhone. This is iPhone Pro Unibody made completely out of aluminum. The iPhone also has an 3.2 megapixel camera, a VGA front iSight, GPS, removable battery, and 16 or 32 GB storage.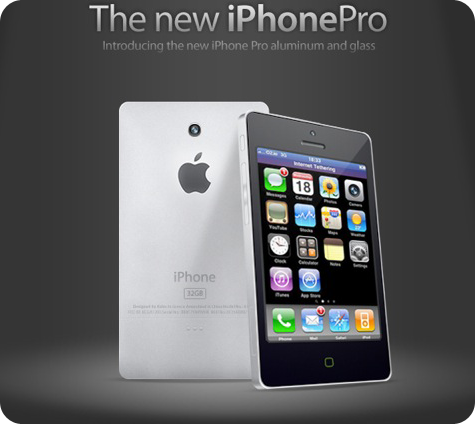 Leave a comment, read comments [3]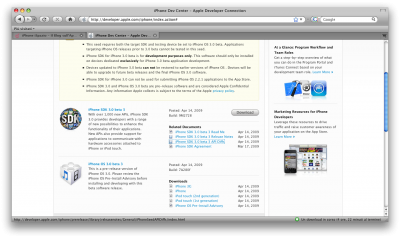 Apple released the new firmware 3.0 Beta 3. The code of the new build is "7A280f". No info about new added features is avaliable yet. But we will find out
Related posts:

Leave a comment, read comments [1]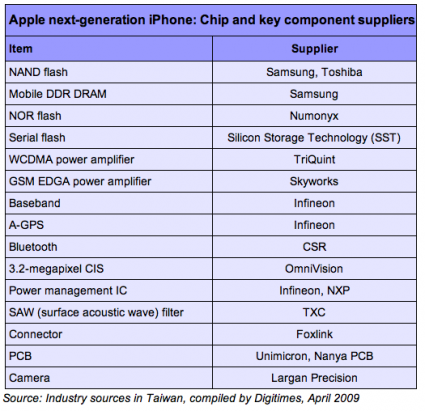 This is a list of component suppliers for the next-generation iPhone that is rumored to arrive in mid 2009. The component list isn't particularly revealing except it reinforces the rumor that Apple will be using a 3.2 megapixel camera from OmniVision in the next generation iPhone. The current iPhone uses a 2 megapixel camera. The suppliers will begin shipping in May and the first batch is estimated at around 5 million units.
via macrumors

Leave a comment