Clippy is an iPhone addition from Cydia for copy/paste functionality. It was updated to version 0.96-1. Many issues are resolved and a lot of bugs fixed. Among these are: the ability to copy text from Safari, the ability to copy text from messages or biteSMS and Fix for the Mail application, many different crashes, etc.
Instructions:
Press-and-hold on list items to invoke Clippy on static text
Press-and-hold on the keyboard's "123" button to invoke Clippy on editable text
Tap-pause-and-drag to highlight portions of editable text (except in web pages)
Install from Cydia on a jailbreaked iPhone or iPod Touch.
Here are several photos that show how Clippy works:

Leave a comment

Leave a comment


DevTeam has announced that iPod Touch 2G is finally jailbreaked.
The raw patch to the firmware that transforms the "tethered" jailbreak into an untethered one was released here but it's not yet packaged up into the PwnageTool or QuickPwn flows. But other threads there are pulling together tutorials and other tips for those of you anxious to try this out now.  For the curious, the hole itself is explained here.

Leave a comment


Grab Sudoku is a beautiful application in AppStore (link) for a price of $0.99. With this app you can play and solve sudoku. It allows users to take photos of sudoku grids from newspapers and can automatically convert them to electronic format, offering the opportunity to play on our iPhone.
The characteristics of this application does not end there. You can also hit a "solve" button and get the answer. You can also take pictures of different sudoku, save them and play whenever you want.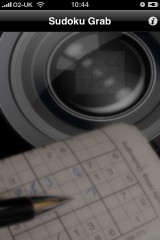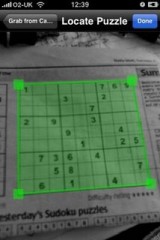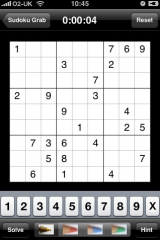 The video below gives a quick demonstration:

Leave a comment


3-D Vector Ball is basically a 3D ping pong. There is a multiplayer mode, where you can play with your friends over wi-fi. Watch the video:
The app is 0.99 in AppStore (link).

Leave a comment


There are many iPhone applications, that alow you to play drums (f.e. real drums). However you should take a look at Kanon Drums, application from japanese developers. This app is fantastic. It works really good, you can play along with some famous riffs.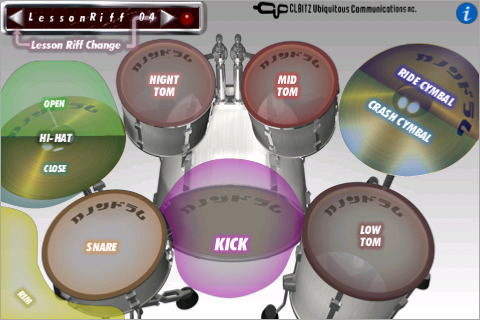 The app is free. Here is an AppStore link. Watch the video:

Leave a comment

You probably remember a video that we showed you a while ago: communication of the iPhone and the Apple Wireless keyboard via Bluetooth. That video was described by all as a fake. So the author created another video.
Both the keys and the display are in camera focus at the same time, iPhone is in Airplane Mode (so WLAN is intentionally off here) and it uses a simplified mechanism for key event injection (so there is no "VNC running on localhost" icon any longer).
I believe this video is not a fake, but where is bluetooth icon ...?

Leave a comment

DHowett is the developer who is working on a new Tweak called "Removal". This is an extension of MobileSubstrate that will allow the easy removal of Cydia applications through "Wiggling Icons" and the (X), just like the App Store applications. Removal will also remove applications installed manually in the directory "/ Applications /".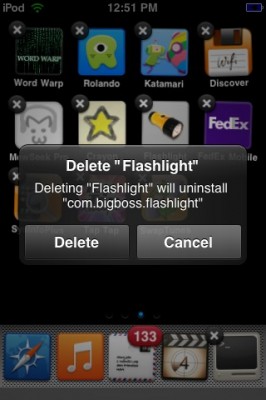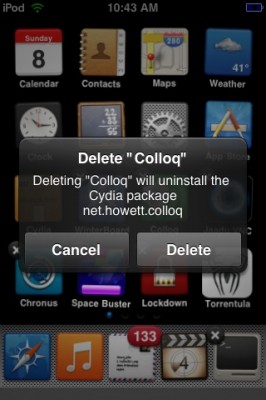 Leave a comment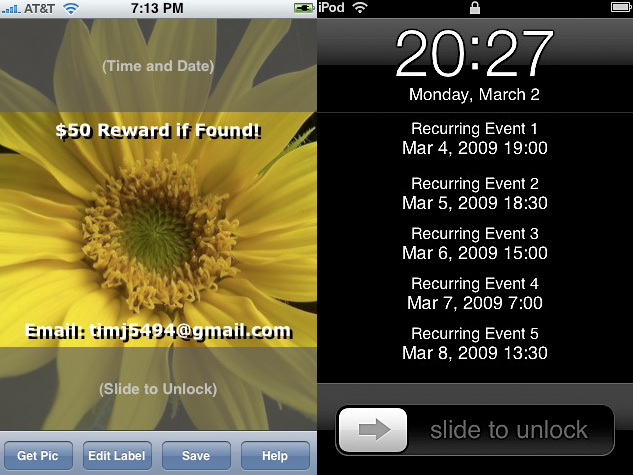 Wallpaper Labeler (AppStore link) and gCalWall Lite (AppStore link) let you add appointments and notes to the home screen. With Wallpaper Labeler, you can enter any text you want to your wallpaper, so you can leave yourself (or whoever finds your phone) notes. The other app, gCalWall, pulls down upcoming appointments from your default Google Calendar and splays them all over your home screen. You have to update it manually, which is kind of a drag, but the dev says that iPhone API won't allow for automatic updating. Both apps are free
In the past you could only use Intelliscreen paid app on a jailbreaked iPhone.
via gizmodo, lifehacker

Leave a comment

Leave a comment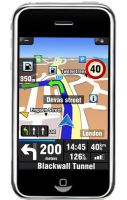 Sygic is an offline navigator for iPhone and should be approved soon in the AppStore. The maps are from TeleAtlas, the navigator provides voice guide, search for POI etc. This is the first video of Sygic Mobile 2009. The application is presented at CeBIT. Rumors say it will cost around $100...

Leave a comment


This tool allows you to install the OpeniBoot on iPhone and iPod Touch. This offers the possibility of using the Linux console on our Apple devices. Once the code is installed we will be able to choose whether to enter iPhone OS or start the Linux console. The file to install the OpeniBoot can only be run on Linux or Mac. But there will be a package for Windows users soon.
You can see the video-demonstration here:
Where to download QuickOiB:

Leave a comment

RedLynx just sent in their new application to Apple. It is a porting of a popular game for PC and Mac, called Monster Trucks Nitro. It will be available soon in AppStore. The expected price is $1.99.

Leave a comment

The app recreates the sounds of firing different firearms, plus a very good visualization:
Costs $1.99, AppStore link.

Leave a comment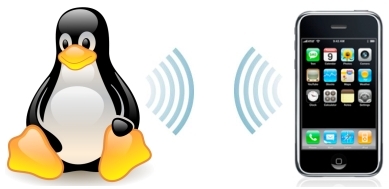 Apple's 2.0 firmware update generally killed wireless syncing with Linux. Ubuntu users have posted a detailed walkthrough, that describes the new precess that works with 2.x firmwares.
via lifehacker

Leave a comment