Pod To PC: copy media from iPod/iPhone to PC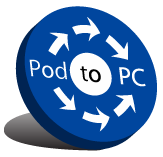 Pod To PC is a free software program to transfer data from any kind of iPod or iPhone to a computer. It supports all generations of the iPhone, iPod Touch, iPod Video, iPod Nano, iPod and iPod Shuffle making it an universal tool to transfer data from those mobile devices to a PC.
The software will run on any PC with Windows 2000, Windows XP or Windows Vista installed. The only other requirement is an installation of Apple's iTunes software. Pod To PC can copy music, videos and playlists from a supported device to the computer. Music and videos can be previewed and filtered on the iPod or iPhone prior to transferring them.
via ghacks

Leave a comment, read comments [3]