RBC expects new MacBooks in late Q2, next-gen iPhone in Sept., Oct.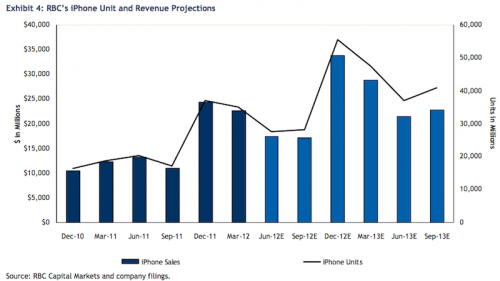 RBC's analyst Amit Daryanani issued predictions that Apple would revamp its MacBook portables later this quarter and release a new iPhone in September or October, echoing expectations for Apple's near-term plans.
The iPhone is the company's "flagship product". 43 percent of Apple's revenue in fiscal 2011 came to iPhone. Apple's apparent two-year design cycle could cause "increased seasonality" as consumers catch on to it and hold off on purchases. That explains  just 21 percent growth in iPhone shipments year over year in the fourth quarter of 2011, compared to 91 percent growth in Q4 2010.
"In our view, a redesigned version of the iPhone every two years will likely result in higher unit sales relative to the iPhone "S" versions as carrier contracts last roughly 2 years and consumers have historically been attracted to the new design concepts created by Apple," he wrote.
The analyst also suggests that the next-generation iPhone will be equipped with "the latest 4G/LTE technology" and will have a redesigned look. He expects Apple will make the device available during the "late summer/early fall time frame." Ahead of a new iPhone, RBC expects a MacBook Pro update to arrive as early as next month. The analyst also mentioned that in the next 6 months Apple could launch an "updated version" of the MacBook Air.

Leave a comment