Samsung guilty of patent infringement, Apple awarded nearly $1.05B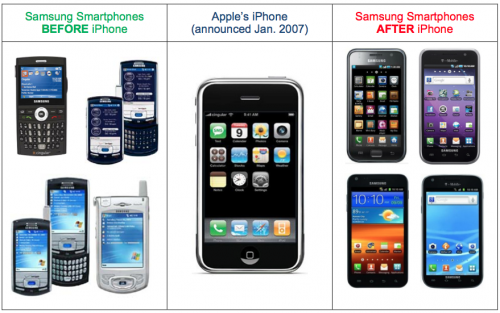 Jurors deciding the patent Apple v. Samsung suit have reached a verdict, finding Samsung to have infringed on certain Apple patents, according to in-court reports from The Verge. The damages owed total nearly $1.05 billion for Samsung and zero for Apple.
In order to come to a decision, the jury needed to fill out a complex 20-page verdict form comprised of over 30 multi-part questions, including damages calculations. The quick turnaround, which amounted to a little under 22 hours of deliberations, came without any questions to the court, hinting that the case was a one-sided win.
Apple's spokesperson Katie Cotton:

We are grateful to the jury for their service and for investing the time to listen to our story and we were thrilled to be able to finally tell it. The mountain of evidence presented during the trail showed that Samsung's copying went far deeper than even we knew. The lawsuits between Apple and Samsung were about much more than patents or money. They were about values. At Apple, we value originality and innovation and pour our lives into making the best products on earth. We make these products to delight our customers, not for our competitors to flagrantly copy. We applaud the court for finding Samsung's behavior willful and for sending a loud and clear message that stealing isn't right.

Leave a comment