The Number Of Application Offered In iPad App Store Passed The 100.000 Milestone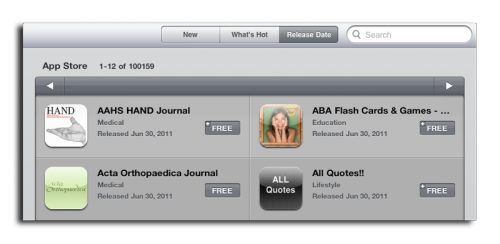 As noted by MacStories, App Store offers now more than 100.000 applications specially created for 9.7-inch iPad's display.
This 100.000 milestone was reached by Apple this week. The total figure refers to iPad-specific applications, and does not count iPhone apps, which can work but doesn't enjoy advantages of the bigger screen size.
It took Apple less than 16 month after putting iPad on sale in April of 2010 to reach the number of 100.000. Then, the iPad App Store had just 3.000 apps available and the milestone of 10.000 was passed that June.
The total number of apps can be viewed in the "Featured" section, and then choosing "Release Date". Yesterday the App Store was shown to have 100.159 iPad-exclusive applications.
Apple's App Store offering products for iOS devices is the largest on app market. Early this month at the Worldwide Developers Conference, Senior Vice President of iOS Software in Apple disclosed that App Store had more than 425.000 applications available, including both the iPad and iPhone, and that since 2008 more than 14 billion apps has been downloaded by users.

Leave a comment