US Army wants to equip all soldiers with an Apple iPhone or Android phone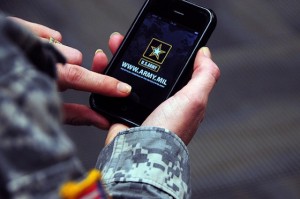 The U.S. Army seems to indent to equip its soldiers with a smartphone making it a standard piece of soldier's equipment. Soldiers will be given opportunity to choose between Apple's iPhone or one running Google Android. The Army is even going to pay the soldier's monthly phone bill. Army – issued smartphones are already used for different purposes but now it id interested in deploying handsets in war zones. The idea is to make it easier for soldiers to access data and receive updates on the go, no matter where they are.
"At war, smart phones would let soldiers view real-time intelligence and video from unmanned systems overhead, and track friends and enemies on a dynamic map..." the report reads.  The handsets will be used with special antenna sleeves which allow them to link to the Army's network.

Leave a comment