We May Soon See iOS 10.1.1 Jailbreak

A well-known iOS developer Luca Todesco has announced that he may soon release a jailbreak of iOS 10.1.1 and the iPhone 7. This doesn't mean that we'll see a fully working tool for jailbreak anytime soon, but the hacker encouraged users to stay on iOS 10.1.1 and wait with the update to iOS 10.2. At least, now.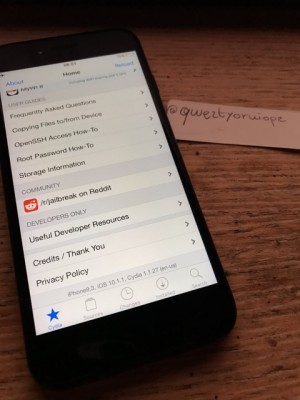 Todesco said he will share the code used to jailbreak the iPhone 7. This code, however, will be very difficult to read and utilize.
Here's what the developer shared on his Twitter:
I will not be opensourcing that and it will be heavily obfuscated. You're not losing anything: the code is basically unreadable lol.
Luca Todesco has already jailbroken the iPhone 7 running iOS 10.0.1 and iOS 10.1.1. However, so far the developer hasn't released any tools for jailbreak.
If you're still on iOS 10.1.1 and don't need iOS 10.2, you can wait for a while. Who knows, maybe the release of new tool for jailbreak is just around the corner. Stay tuned for updates on the issue.

Leave a comment