Win a Free iPhone 4 Playing Finger Balance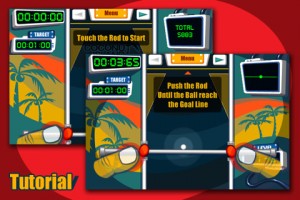 Coconut Island Studio has introduced a new game called Finger Balance. This application has taken the lead in many rankings and is now ready to please everyone. Finger Balance received the title of "New and interesting" and "What's New" in the world of Apple App Store. To celebrate the success of the application and show gratitude to all the users who appreciate it, Coconut Island Studio decided to present a free iPhone 4 and, as a bonus, give a classic game iDragPaper this weekend.
Everyone can take part in the raffle. To do this, just buy Finger Balance and pass levels 4-N, N 7-and 10-N. Then, at each level you will see a button. Click on it, enter your email address, confirm it, and you are registered in the raffle! Now Coconut Island Studio will give a winner 10 iTunes gift certificates at $ 15 each.
Raffle ends at midnight on August 22, 2010. The winners will be contacted by e-mail. So do not waste time, play!

Leave a comment