5.5-inch iPhone 6 Photo by Jimmy Lin

A photo showing the 5.5-inch iPhone 6 prototype appeared on the Internet on Wednesday. The image was shared by Jimmy Lin, a Taiwanese star and race car driver.
The device on the photo looks pretty much the same as the iPhone 5s, however, it is slightly thinner and has a larger display. Neither Apple, nor its suppliers haven't yet confirmed the legitimacy of the photo, so I recommend you to take it with a few pinches of salt.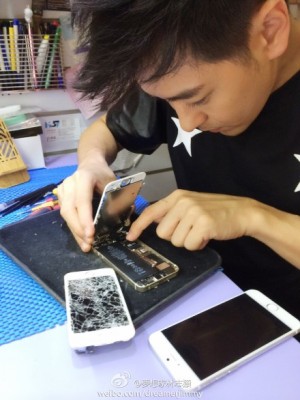 Lin posted photos of what appeared to be a 4.7-inch iPhone 6 earlier this month. A follow up report from SteveNotes said that Lin had obtained an authentic prototype. The prototypes were allegedly shipped from Apple, for testing purposes, to its various facilities around the world, including Hong Kong.
Apple is expected to release its next-generation iPhone 6 later this year. The handset will feature a larger screen, an updated Touch ID fingerprint sensor, an improved camera and a bunch of other improvements.
[via iClarified]

Leave a comment