iOS 9 Adoption Rate Reaches 75% - Apple

According to the latest data shared by Apple, the iOS 9 adoption rate has recently reached 75%. What this means is that the number of active iPhone, iPad and iPod touch users has grown 5% since November. Things like iPhone 6s and iPhone 6s Plus sales, the introduction of the 12.9-inch iPad Pro and the release of iOS 9.2 contribute to the growth of the iOS 9 adoption greatly. The data on iOS 9 adoption is based on the App Store usage and is a reliable source of information.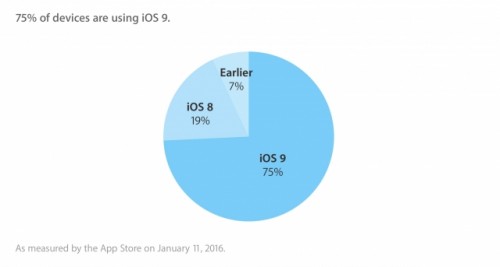 The number of people using older builds of iOS continues to fall. Right now, 19% continue utilizing iOS 8 and 7% haven't yet upgraded from iOS 7 or an earlier version of Apple's mobile operating system. iOS 8 is installed mostly on jailbroken devices and their owners are most likely waiting for the release of untethered jailbreak of iOS 9.2 to upgrade. If to speak about those who have an older firmware version on their iPhones, iPads and iPod touch units, these are mainly people with older devices that can't be upgraded further.
Very soon, Apple may officially release iOS 9.3 with a number of new features and minor improvements. This event may boost the adoption rate and increase the number of active devices running the latest firmware version.

Leave a comment