Today Apple's Media Event: What To Expect


As you may know, today Apple unveils its new lineup of MacBook Pros and has already shut down the Apple Store for some time. CNet reports the launch of new laptops will come "shortly after Intel's announcement" of its new Light Peak technology at 10 a.m. Pacific. That actually break's usual practice of Apple to release products at 8:30 a.m. Eastern.
However, before Apple unveils new MacBook Pro we decided to collect all the information gathered about new laptops into one single post so you could know what you can expect from today's announcement.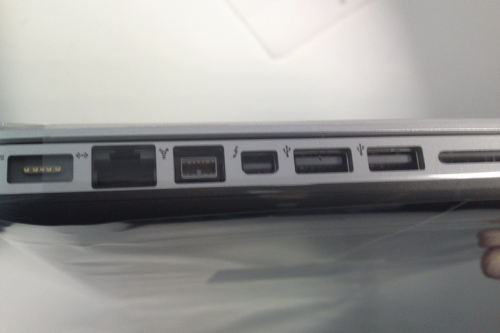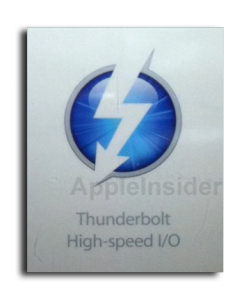 First of all, new Intel's Light Peak technology will be reportedly marketed by Intel as Thunderbolt, and its support will be included in new MacBook Pros. Thunderbolt connector will include both Mini DisplayPort and High-Speed I/O functionality, which means that Intel may have adopted Mini DisplayPort standard of Apple after it received objections to the use USB connectors as combo connectors.
Cnet reported that 15- and 17-inch models will have discrete graphics chips from AMD that will augment Intel's integrated graphics.
Leaked photos of new 15" MacBook Pro, obtained by French site Mac4Ever, show the device has next hardware specifications: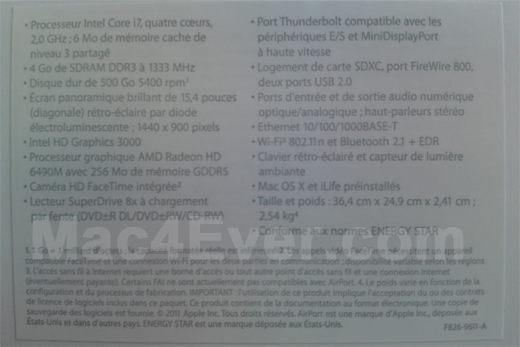 Intel Core 2.0 GHz i7 Quad-Core CPU with a 6MB cache;
4GB of RAM at bus speed 1333MHz;
AMD Radeon HD6490M GPU with 256MB of memory along with Intel HD Graphics 3000;
15.4" screen with resolution of 1440x900;
500GB hard drive;
8x SuperDrive;
FaceTime HD camera;
SDXC slot, 2 USB 2.0 ports, FireWire 800 port, Mini DisplayPort and Thunderbolt port;
Wi-Fi, Bluetooth;
Ethernet and Audio ports;
2.54 kg weight.
Mac4Ever assures this is "without doubt the entry or mid-range" model, as the graphics chip has only 256MB of memory. However, the site wasn't always correct in its predictions about Apple's new products, so we cannot be sure the above-mentioned information is somehow correct.
AppleInsider has also obtained alleged hardware specifications of 13-inch MacBook Pro: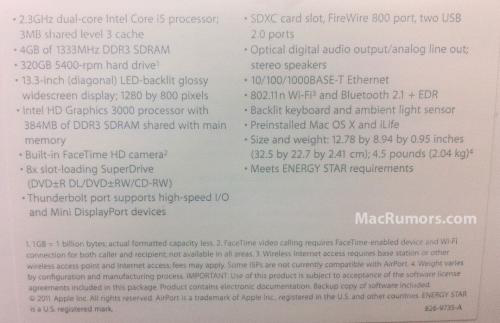 Intel Core 2.3GHz i5 Processor;
4 GB DDR3 at 1333 MHz;
Intel HD Graphics 3000 with 384 MB shared memory;
13.3" display with 1280x800 resolution;
320GB hard drive;
FaceTime high-definition camera
Thunderbolt connector for MiniDisplay-Port and High-Speed I/O devices support;
Firewire 800, SDXC and 2 USB 2.0 slots;
Wi-Fi, Bluetooth;
Ethernet and Audio ports;
Backlit keyboard;
2.04 kg weight.
The specs of 17-inch model are still unknown.
Some rumors suggest Apple may also unveil new lineup of iMacs today.

Leave a comment