18,5% Of Mobile Phone Subscribers In U.S. Are Now Using iPhones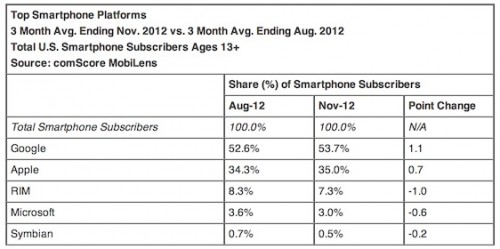 Today comScore published the results of its survey of mobile phone subscribers in U.S. for the September-November period, noting that 18.5% of mobile phone subscribers are using an iPhone, up 1.4% from the data for June-August timeframe. Samsung continues to lead the pack with 26.9% of the market share, up from 25,7% in the previous period, while LG, HTC and Motorola lost their shares.
Last month Apple overtook LG for the second place and increased its lead over LG in the latest data.
When looking only at data on smartphones that currently account for 53% of the mobile market in U.S., Android has continued to extend its lead holding 53.7% of the market. The iPhone 5 launch helped Apple to continue its growth and now the company takes 35% of this market, while Microsoft and RIM's declines have increasingly turned the market into a two-horse contest.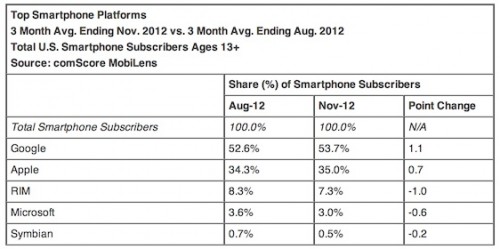 Leave a comment