After Falling From 13,000 Feet iPhone 4 Still Makes Calls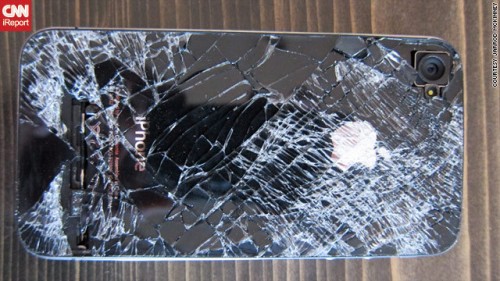 Some people carry their iPhone everywhere. Among them is a skydiver who decided to take his smartphone with him when he recently took a plunge from an airplane. However, his smartphone fell from his pocket when he was dropping down from more than 13.000 feet. It is incredible, but as CNN reports, after the huge fall, the beaten and damaged iPhone still was able to make calls.
Jarrod McKinney, who is a 37 y.o. skydiver from Minnesota, said that he didn't notice when the iPhone 4 dropped out of his pocket while he was in the air, noticing that in a hurry he forgot to zip up his pockets in the skydiving pants. He stated that he left the smartphone because he wanted to be able to call someone to find and pick him up in case he lands away from the planned jump destination.
Luckily, he located his iPhone 4 with the help of GPS tracking application after he safely landed on the ground. The iPhone hit the ground around a half mile from the place where McKinney landed himself. The picture above shows that the smartphone won't obviously be able to run any app anymore. As report states, when Joe Johnson, McKinney's skydiving instructor, called skydiver on a whim, the telephone started ringing and McKinney answered.

Leave a comment