AnandTech Compared Galaxy Nexus And iPhone 4S performance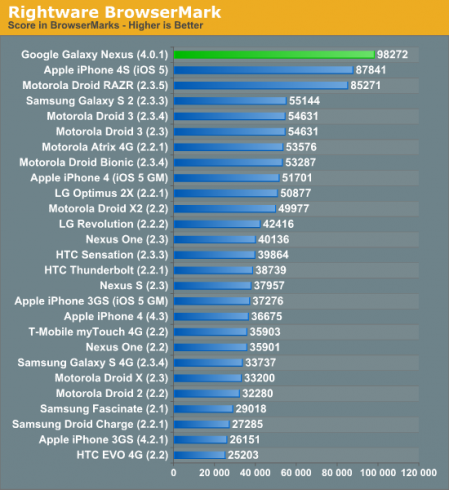 The first smartphone with Ice Cream Sandwich, Galaxy Nexus, was released in the UK this week (launch in U.S. coming soon) and website AnandTech has benchmarked the new Galaxy Nexus vs. iPhone 4S.
The processor and GPU in Galaxy Nexus are not groundbreaking, but its software is obviously including improvements allowing the device to beat iOS in some key areas. As you can see from the graph above, the Galaxy Nexus has a faster browser than Apple's iPhone 4S— an important day-to-day tool for users.
Also the Galaxy Nexus became the winner in JavaScript loading, showing better load times than the iPhone 4S and Droid RAZR. However, iPad 2 and iPhone 4S outperform the new smartphone in GPU loading (showed below), which is constrained by Galaxy Nexus' slower SGX 540 graphics processor.
Also the hardware in the new smartphone has been dubbed extremely smooth compared to older Android versions. Google activates 550,000 Android handsets daily and is still behind total 200 million iOS activations.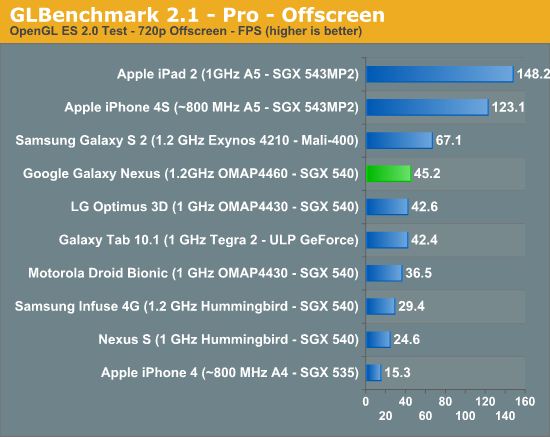 Leave a comment