Angry Birds Update.

The new version of Angry Birds is full of Bad Piggies, which keep on building contraptions throughout the game.
The aim of Angry Birds is to destroy the pesky pigs. It is a challenge to the very existence of Angry Birds. Avenge on the Bad Piggies, who dared to steel the eggs. The unique power of each bird should be used to fight the greedy pigs. Angry Birds boasts physics-based gameplay and wide replay opportunities. You should concentrate all your logic and skill to clear each level.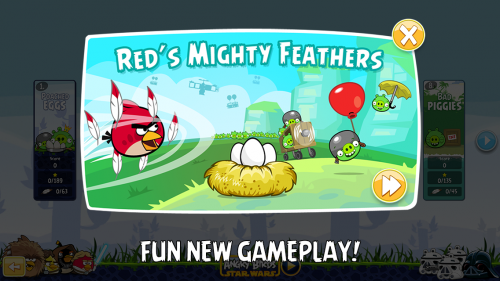 Updates in 3.2.0
The most popular app is updated! However cool you may be at fighting pigs, in this version you will have to concentrate all the skills to fight a moving target. Have a look at the absolutely new Red's Mighty Feathers episode, where the Red Bird fights advancing Bad Piggies to defend the egg. Luckily, Red Bird now boasts magic feathers presented by Mighty Eagle himself. They give a new power of rushing towards the greedy pigs at high speed.
● New gameplay - the Egg Defender mode with Red' special powers to fight the pesky pigs!
● 15 new levels – new challenges in the Red's Mighty Feathers episode.
● 73 crazy pig contraptions – each time Bad Piggies get closer with their eccentric defenses.

Leave a comment