Apple corners mobile ad market.

iOS products are used to being outnumbered by Android, although Apple manages to become a market leader in advertisement sector. According to a recent study, Apple controls 75% of mobile ads market.
The share of Android is diminishing, as Samsung's Galaxy S smartphones are delivering hardly any impressions.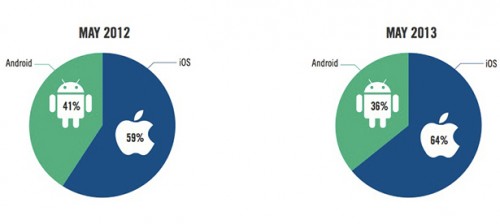 Ad firm Velti studied the mobile advertising market of Apple and Android, comparing figures of May 2013 to findings from 2012. The share ofCupertinocompany grew by 5%, from 59% to 64%. Whereas Android decreased its presence on the market by 5% to 36%, despite its domination of smartphone shipments. The figures of dynamics are the same, but Android loss cannot be referred to by Apple's increase in share.
The biggest problem of Android is poor demonstration of Samsung. The South Korean company gets only 2.7% of mobile ad impressions. It occupies the fourth place (after iPhone, iPad and iPod Touch) in ranking by ability to draw attention of mobile advertisers.
TechCrunch's Darrell Etherington says:
Being the market leader of mobile ad sector is a crucial point for Apple, which is constantly improving its figures of mobile app engagement and monetization. Moreover, the leading position helps iPhone to stay desirable for the consumers, so Apple is happy to be increasing its share.
Due to the latest trends of mobile ads, the usage of  large, full-screen ads is growing. Their figure went up by 5% in 2012. The small ads used on smartphones displays are being substituted by full-size ads on screens of iPad as the most preferable ad device.
The bigger the screen is, the more attention-getting graphics can be used, so ads initially designed for print, web or TV will be used on tablets and iPads.
Although Apple works with many carriers inUSA, AT&T remains the most crucial. It gets 46% of all mobile ad impressions, 7% less than in May 2012.
Verizon is the market challenger, with 34% of mobile ads market and growth of 10% since last year. The share ofSplitdwindled from 25% to 19%.
Velti forecasts a drop in Apple's share of mobile ad market when iPhone 5S (or whatever it is called) is released.

Leave a comment