Another Apple's patent application reveals new methods of protecting electronic devices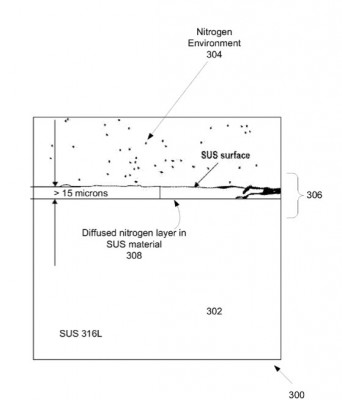 New Apple's application with a title "Nitriding Stainless Steel for Consumer Electronic Products" was published this week by the U.S. Patent and Trademark Office. The document describes a cost-effective system, which can place a nitride layer on the surface of stainless steel exterior.

"In addition to providing a durable, hard surface that is both scratch and impact resistant, the nitride layer allows for the natural surface color and texture of the underlying stainless steel to remain visible to the user. It is this natural surface color and texture of the stainless steel that adds to the aesthetically pleasing appearance of the consumer electronic product, thereby enhancing the user's overall experience."
Nitride coating is transparent and allows the stainless steel color to show through, while titanium nitride has a metallic gold color and covers the metal beneath it.
The idea of Apple's new patent is that using nitride coating allows the stainless steel to be still visible on electronic devices and at the same time allows the device to be protected from various kinds of blemishes and scratches.
It is also noted in the application that scratch-prone austenitic stainless steel is more preferred material in consumer electronic as it's non-magnetic and has less chances to inhibit such wireless technologies as Bluetooth, Wi-FI and cell phone signal. But Apple wants to keep the look and feel of stainless steel and at the same time make it more protected.
The patent application lists a set of methods that allow to place the nitride on the surface with a material at least 15 microns thick, while carrying a Vickers Hardness value at the minimum value of 1,000.
The publication was filed on April 6, 2010 and its author is Douglas Weber.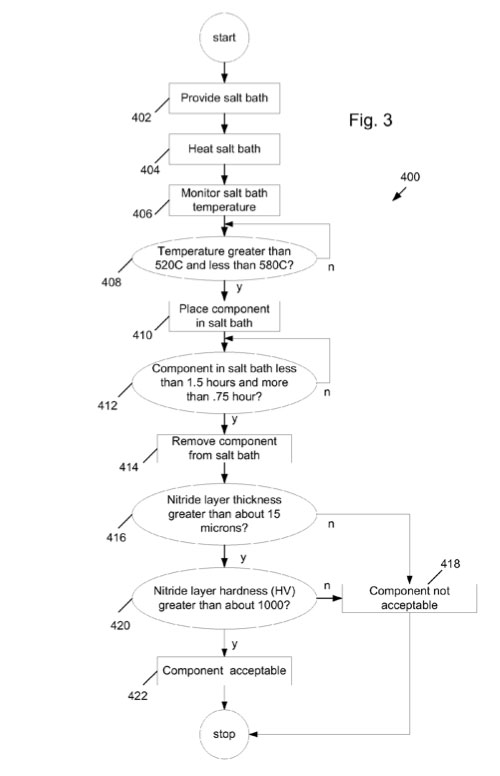 Leave a comment