App Store's Still Number One in Revenue, Google Play's the Second

Apple's App Store revenue still remains higher than the Google Play's revenue. Although the Google's store has had a substantial increase in growth over the past six months, the company from Cupertino still makes more money on selling apps.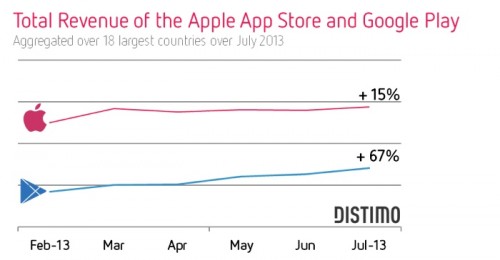 App Store's revenue increased 15% over the last six months, while Google Play's - incredible 67%. Only In July Apple App Store saw a 3% growth compared to Google Play's 11%.
As to the revenue per country, the USA is on the first place, followed by Japan and United Kingdom.
iPhone apps remain the main source of the App Store's revenue, though in some countries like Russia, for example, users spend more on iPad apps. Those who use Android devices purchase apps for smartphones more often, than for tablets, too.

Leave a comment