Apple adds notes feature in the App Store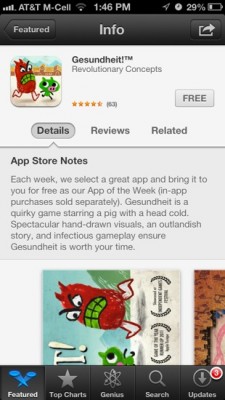 Apple added a new application notes feature in the iOS App Store. Applications flagged as "Editor's choice" and "App of the Week" are now available in the App Store with a brief description. For example, "Might note & Magic: Clash of Heroes":
"Clash of Heroes has it all: epic storytelling, a wonderful blend of style and substance, and a spectacular battle system. This strategy-puzzler is genre-defining and an absolute must-play effort from the creators of Sword & Sworcery EP."
The App of the week, which is being offered for free in the iPhone App Store, reflects a similar description. Other apps under "New and Noteworthy" and "What's Hot" sections also have App Store Notes, although not all applications in these topics have the new notes.
Six of 24 "New and Noteworthy" apps have notes. In the "What's Hot" section, only Temple run 2 and Momonga Pinball have notes.
App Store Notes might be applied to all of Apple's selected apps, and reserved for the most popular one. For this moment, it is unclear what criteria Apple uses to define applications, that have notes. New notes are visible only in the iOS App Store and do not appear in the desktop version of iTunes.
First notes in the App Store appeared back in December for applications that Apple chose as the best for the year. Now feature more widely distributed elsewhere in the App Store.

Leave a comment