Apple Applied For Location Tracking Algorithms Back In 2009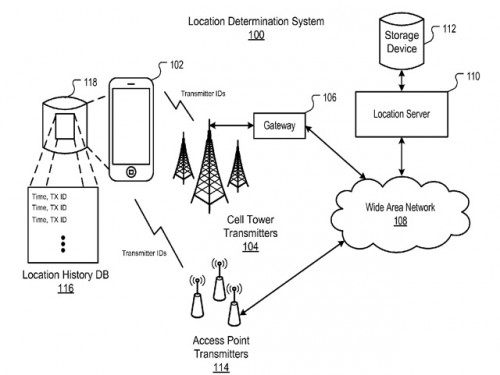 Leander Kahney from CultOfMac found the patent application which may throw even more light on the recently found iPhone tracking issue.
The application is entitled "Location Histories for Location Aware Devices" and was filed back in September 2009. It describes technologies and methods that allow to track the location of such devices as computers, game consoles, MP3 players and, certainly, iPads and iPhones.
According to the document a location aware mobile device may collect transmitter IDs and other network information over time. This information will be then translated to estimated position coordinates of the device if the user requests. A user or application also may get an access to location history or its part only in a map view.

It is revealed that information gathering may be performed even when the device is in the sleep mode. Some algorithms allow to use location data to unlock the device or trigger camera functions.
The location data, which is being kept in a database-file, may also be sent to network services in order to get precise information on current device's location.
Previously we reported that Apple officially stated it doesn't track the user, instead of it collects anonymous location data in order to speed up the location tracking algorithms in iPhones. That data obviously cannot be used to identify individuals; but the patent application reads the opposite. Thus this document throws the company's statements into doubt, Kahney says.
However, the filed patent application doesn't necessary mean Apple implemented the same technology in its products. The company just patented it.

Leave a comment