Apple Fights Scalpers With New System For iPhone Reservations In Hong Kong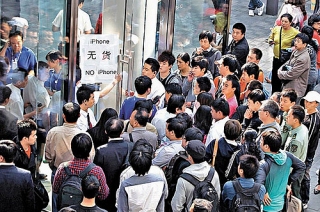 Apple has set up an interesting system to combat scalpers who marred a recent launch of iPhone 4S in Mainland China. A newly created page on Apple online store in Hong Kong has a kind of a lottery system for iPhone reservations that seems to target scalpers using bots for snapping up all the iPhones. Instead of reserving their devices on a first-come-first-served basis, buyers are currently required to supply full details, including government-issued photo ID card matching the ID number and the name.
Also this lottery appears to be valid during a three-hour timeframe each day. Those who get a reservation receive a confirmation email before 9 p.m. which includes the time when you can take your iPhone the next day. It is interesting that Apple specifically noted that it will not sell iPhone 4S or iPhone 4 to walk-in customers.
As you remember, scalpers are fairly organized, paying migrant workers for standing in the line and buying the iPhone. When Sanlitun store was closed due to large number of people, workers, wearing matching hats or armbands, became angry as they would not receive their payments.

Leave a comment