Apple granted another key multitouch patent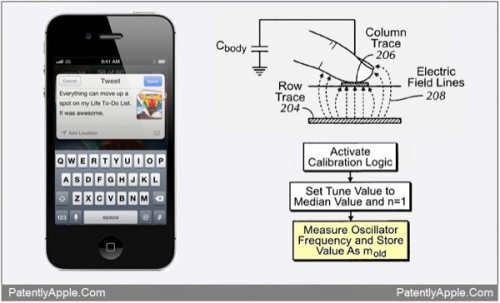 The United States Patent and Trademark Office published on Tuesday that Apple won a core multitouch patent that describes how touch events are recognized by a touchscreen device. The patent blog Patently Apple also noted that this patent was one of the "200+ Patents for new inventions" Jobs lauded when the iPhone first debuted in 2007.
The newly granted patent focuses on the oscillator signal and circuit of a touchscreen-equipped device, an integral invention directly related to how users interact with their multitouch products.

Apple states in the filing: "In general, multi-touch panels may be able to detect multiple touches (touch events or contact points) that occur at or about the same time, and identify and track their locations."
One way to record multiple touches is to generate an oscillating signal circuit that can power and clock inputs over a substrate as in a capacitive touchscreen display. But it is difficult to create a precise circuit-based oscillator. According to Apple's patent, the solution to capacitive touchscreen problem is to calibration logic circuitry which compares the signal oscillation against a reference signal and tunes the clock frequency accordingly. The invention provides for an accurate capacitive display that can not only sense multiple touches, but also detect hover or near touches which are also recognized as "touch events."

Leave a comment