Apple Invests Record $11B In Purchases, Has Highest Margins in Asia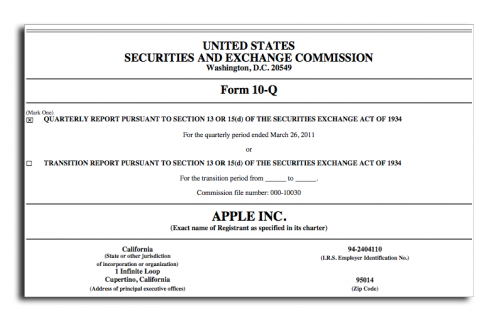 This week Morgan Stanley analyst Kate Huberty released "10-Q Tidbits", conclusions based on Apple's 10-Q form filing with the U.S. Securities and Exchange Commission.
Kate found that Apple is going to spend $11 billion on components and other purchases in the March quarter, which is a record $3,1 billion (39%) increase in comparison to the end of 2010.

"We believe the increase is attributable to procurement ahead of a tight supply environment and expected shipment increases in June (iPad) and September (iPad + iPhone)".
Apple has agreements with component suppliers that expire in 2022 and total about $2 billion.
Kate Huberty also explained why Apple's operating margins in the Asia are the highest.
| | | | |
| --- | --- | --- | --- |
| Region | Asia/Pacific region | Europe | America |
| Operating margins | 43,1% | 42,3% | 40,3% |
"We think Apple has the opportunity to replicate its success in China and other emerging markets and the potential introduction of a lower priced iPhone in 2012 should help accelerate growth in emerging markets".
Last quarter Apple's revenue in Asia/Pacific region rose 151% and Mac sales increased 76%.

Leave a comment