Apple New Patent Application Describes Persistent Overlay UI For iOS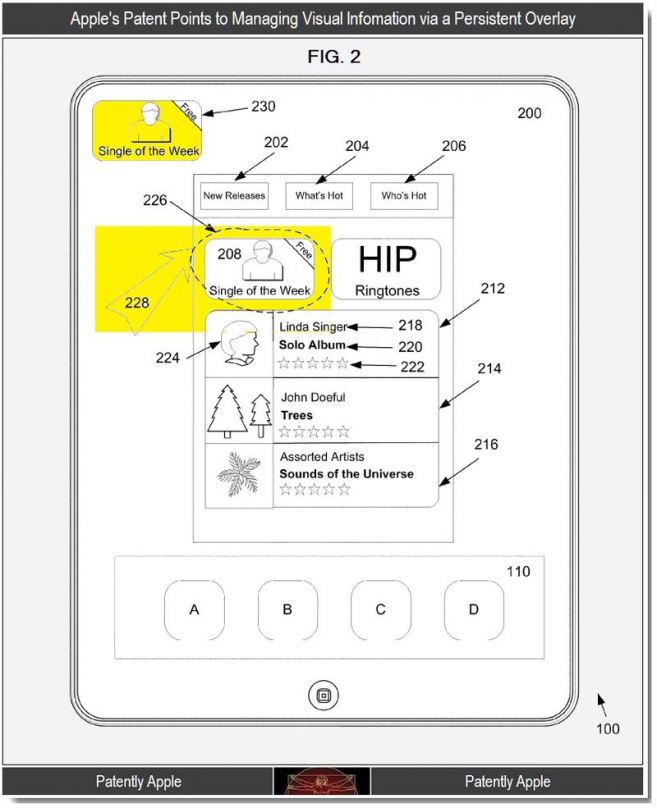 The US Patent & Trademark Office published (via PatentlyApple) an Apple patent application describing a new way of interacting with content on iOS devices. The concept is called "Persistent Overlay" and it aims to provide users with quick access to songs, files, photos and other data through an always persistent, accessible UI.
As you can see on the image above, a user can grab and/or tear off parts of a webpage such as songs, photos, documents and place them in a specialized area of the interface. Apple's patent notes that persistent overlay could be related to different forms of data such as graphical, textual, video and audio data. Also the persistent overlay could be made semi-transparent in order not to obscure overlaid information.
From the information in the patent it's not exactly clear how "Persistent Overlay" feature would be integrated into the current iOS UI, however it appears to be separate from the iOS homepage. PatentlyApple states that Apple's patent description sounds like "Persistent Overlay" could be part of the multitasking feature, allowing you to place such items as song or photos next to iPod controls or recent apps in the multitasking tray. The report  also says that users could set up many persistent layers which would be managed via different visual mechanisms, for example a drop-down list.

Leave a comment