Apple ordered 65 million iPad screens for 2011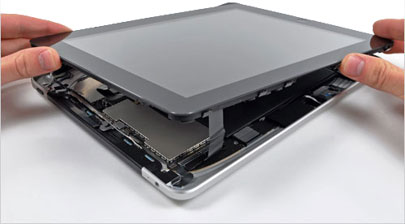 Last week another DigiTimes report had revealed that Apple ordered approximately 35 million iPad displays from LG and another 30 million from Chimei Innolux and Samsung.
According to the publication, these huge numbers show that Apple "is very optimistic about the tablet PC market in 2011, and it may also mean that Apple is overbooking panel capacity".

In regard to 2010, Apple presumably purchased 16.75 million iPad screens, and all of them were shipped from Taiwanese component manufacturers. With appearance of another manufacturer for iPad screens (Chimei Innolux) in addition to LG and Samsung it becomes obvious that there is no problem with overbooked panel capacity, in other case it would already become evident.
Moreover, Apple tries to do everything it can to sell the iPad, including efforts to bring the device into the enterprise, while its competitors try to shoehorn their tablet interfaces into 7-inch and less screens as they cannot afford to use larger format. Previously Jobs also predicted:
"We think the 7 inch tablets will be dead on arrival, and manufacturers will realize they're too small and abandon them next year. They'll increase the size, abandoning the customers and developers who bought into the smaller format".
It may explain why Apple is so optimistic about iPad sales in 2011. Nevertheless, this year analysts predict iPad will see new rivals from HP, RIM and Microsoft which will together take a serious share of tablet market.

Leave a comment