Apple Planning to Add Bluetooth Support for AirPlay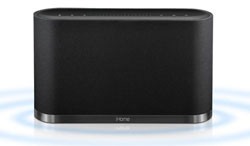 According to Japanese blog Macotakara, Apple held a MFI Conference for iPod / iPhone / iPad for accessory manufacturers in Shenzen, China this past week.  During the conference Apple reported that the company was going to introduce a new chip for MFI program ("MFI" means Apple's Made iPod / iPhone / iPad certification program) in order to encourage manufactures to produce more iOS-compatible accessories. The rumored chip will provide access to devices running iOS via AirPlay, Bluetooth and Wi-Fi. The current program for iOS devices is limited to physical dock accessories.
TouchArcade has confirmed these rumors by its recent article telling us about iOS gaming accessories. TouchArcade explains that the reason why all the current gaming accessories rely on Bluetooth keyboard emulation is due to the restrictions Apple has placed over bluetooth connections and with the new chip such restrictions seems to be loosed opening the way to analog control sticks for iOS devices.
Moreover, Apple has recently revealed that the company would be adding support for AirPlay over Bluetooth. It is unclear what advantages this will offer.

Leave a comment