Apple pushes back delivering of 27-Inch iMac to January.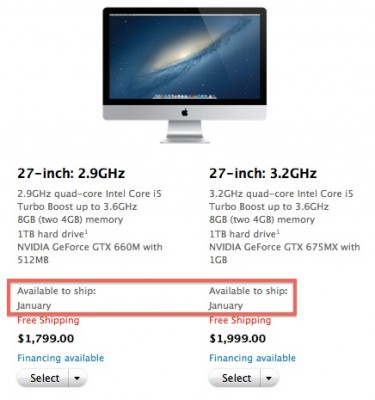 Delivery time of the new 27-inch iMac by Apple has been changed. Initial availability of devices has been deferred to January 2013. Earlier delivery of orders are to be executed in 3-4 weeks time.
The increase in delivery time, given that the previous 3-4 week period now is postponed, means that the orders will be shipped only in January. At least, it seems that Apple introduces some uncertainty in the availability of devices, simply saying that for new orders delivery time is one month instead of the significant period of one week.
Since the launch of the device, the supply of new iMac have been hampered and their limitation is expected in 2013. A contentious issue for Apple is reportedly the new displayproduction process which consists of thin layers . This process is more difficult for production of large screens, making 27-inch iMac shipments more scarce than the 21.5 inch models.

Leave a comment