Apple released free developer books for iBooks users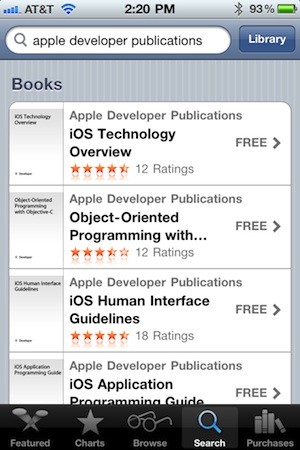 Apple has recently released six books of Apple Developer Publications series for free. They can be easily found in the iBookstore by typing "apple developer publications" in the search field. The books have been available for free download for a while on Apple's site for developers as PDF-files, but now they have been converted to epub format for even more comfortable reading.
Here is a list of these books:

iOS Technology Overview
Object-Oriented Programming with Objective-C
iOS Human Interface Guidelines
iOS Application Programming Guide
The Objective-C Programming Language
Cocoa Fundamentals Guide
The books are 44-200 pages long and will be useful for everybody who is going to be an iOS developer in the nearest future.

Leave a comment, read comments [1]