Apple Releases iOS 7.1 Beta 4 to Developers

Apple released iOS 7.1 beta 4 to developers on Tuesday. The new iOS version contains a number of performance improvements and a fix for the message sending issue. As to the other notable enhancements, these are only 'slide to unlock' and 'slide to power off' texts, which seem to be tweaked a bit.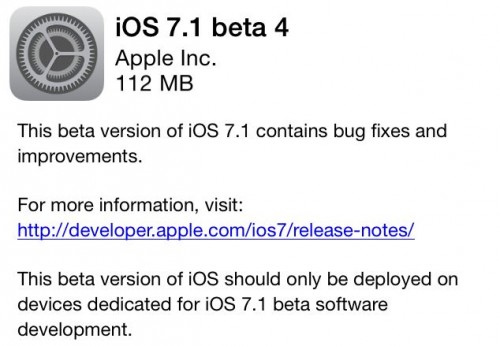 The update has a build number 11D5134c. Apart from the new iOS 7.1 beta, the company from Cupertino also released Xcode 5.1 beta 4 and Apple TV software beta 4.
As noted by AppleInsider,
The new version comes just two weeks after the release of iOS 7.1's third developer preview, and is now available to download from Apple's developer website and over-the-air on test devices.
According to the latest rumors, Apple will officially release iOS 7.1 in March.

Leave a comment