Apple Remains Top Vendor of Declining Tablet Market - IDC

According to the latest report from a research firm IDC, the global tablet market continues to decline. Apple, however, remains the largest and the most successful tablet vendor with the market share of 24.5% and 10.9 million iPad units sold to customers worldwide in the second quarter of 2015. In the second quarter of 2014, Apple's market share was equal to 27.7% and the number of tablets shipped accounted for 13.3 million units.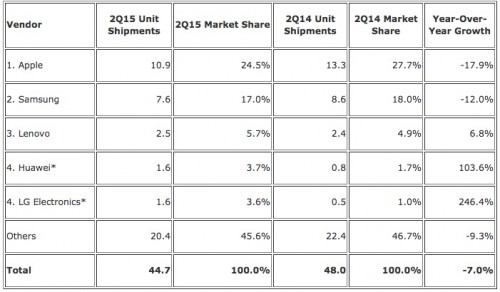 Apple's main rival, Samsung, has also seen a decline in the global tablet sales. Its market share is currently equal to 17.0%, down from 18.0% last year, and the number of devices shipped to customers is 8.6 million, one million less than a year ago. Because of low prices of their devices, such companies as Lenovo, Huawei and LG have seen an increase in sales.
The latest numbers from market research firm IDC's Worldwide Quarterly Tablet Tracker show that Apple remains the largest vendor in a declining tablet market, shipping 10.9 million iPads in the second quarter of 2015.
As you know, Apple is expected to release an updated iPad mini 4 later this year. Apart from that, we may also see the iPad Air 3 and the iPad Pro with a 12.9-inch display this fall, however, these rumors haven't yet been verified by reliable insiders.
[via MacRumors]

Leave a comment