Apple Music Event by the Numbers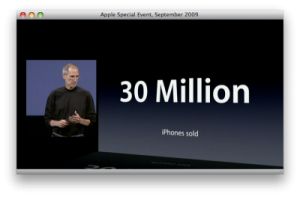 During the It's only rock and roll Apple spent some time discussing numbers. And as usual the numbers were huge. So here's what we've heard:
30 million iPhones sold
20 million iPod touches sold
That makes 50 million iPhone OS X platform device on the market, up from 45 million on July 21.
75,000 apps in the iTunes App Store
1.8 billion downloads (not counting updates)
In terms of games, compared with other mobile platforms, here's the library count:
21,178 for Apple iPhone/iPod touch
3,680 for Nintendo DS
607 for Sony PSP
Here's more:
#1 music retailer in the world
100,000,000 accounts (credit cards) on file
8.5 billion songs sold
27 million libraries submitted and analyzed by Genius
54 billion songs submitted and analyzed by Genius
100 million iPod nanos sold
220 million iPods in total sold
What about MP3 player market:
73.3% iPod
17.9% Other
7.2% Sandisk
1.1% Microsoft
Good job, Apple!
via theiphoneblog

Leave a comment