Apple Sold 4 Million Macs Last Quarter - Fortune

According to Fortune's latest estimates based on predictions from both professional and amateur analysts, Apple sold as many as 4 million Macs in the last quarter.
For several years in a row, the number of Macs sold to customers worldwide has been declining. This year can possibly become an exception, experts believe.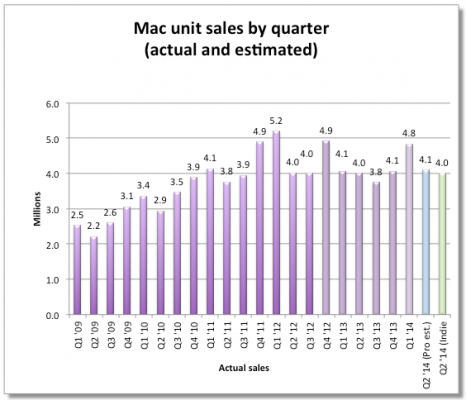 Here's what they say (via iClarified):
Although a third of the 33 analysts we've heard from so far -- 13 amateurs and 20 Wall Street professionals -- think Apple will report another decline in unit sales next week, two thirds believe sales actually rose year over year. The average analyst's estimate is just over 4 million Macs, a 2.8% increase over the same quarter last year. The pros (at 4.1 million) are slightly -- but only slightly -- more bullish than the amateurs (4 million) this time around.
Apple's Mac is the third most-popular product among the users. As to the first and the second place, they're occupied with iPhone and iPad.
Apple is expected to unveil its financial results of the second quarter of 2014 on April 23rd. Let's wait.

Leave a comment