Apple to Show New iPad on October 22nd

Apple has finally sent out the invitations for the media event devoted to the iPad 5. As it has been previously rumored, the new tablet will be unveiled on Tuesday, October 22nd at the Yerba Buena Center for the Arts, San Francisco. The media event will start at 10 a.m Pacific Time.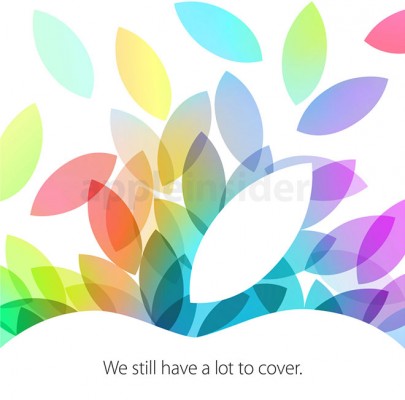 Some words about the invitation itself - as you may see on the picture above, it looks just like the previous Apple's invitations: it is colorful and features a conventionalized company logo.
Here's what the invitation teases:
"We still have a lot to cover."
And now take a look at what AppleInsider writes about the new iPad 5:
The fifth-generation full-size iPad is expected to see an overhauled design making it look more like the iPad mini. It's likely to have thinner side bezels and a slimmer profile, allowing the device to be more portable and lightweight while retaining its 9.7-inch screen.
The new iPad release is just around the corner, so let's wait.

Leave a comment