Apple Vice President of Global Security John Theriault departs company following lost iPhone 4S investigation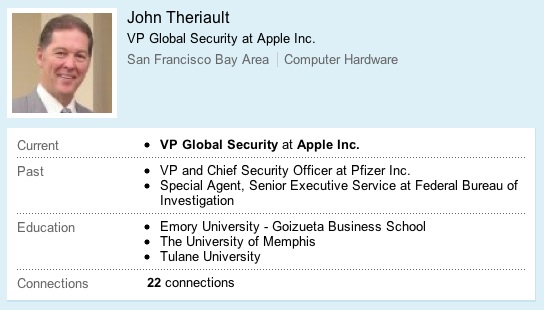 A large number of Apple senior executives have left the company this year. And Apple's vice president of global security John Theriault is one of them. We've heard that the reason for his departure could be the lost iPhone 4S prototype, while the official reason is retirement.
In July, an Apple employee lost a prototype of the new iPhone at the Cava22 bar in San Francisco. Following the loss of the prototype device, Apple security personnel being escorted by San Francisco police visited a home to where the device had been traced. Apple security officials reportedly posed as police officers in their search of this prototype iPhone. Apple and the SFPD may face a lawsuit over the matter, as the resident claims that he was threatened by the police and was not informed that Apple's security officials were not actually officers.
Theriault, a former FBI agent and Pfizer vice president, joined Apple in 2007. Theriault was responsible for all of the Apple's security operations and led an anti-counterfeit team in 2008 in a fight against China's growing counterfeit product market.

Leave a comment