Apple Watch Motivates People to be More Physically Active

According to the latest report from a research firm called Wristly, the Apple Watch has motivated a wide number of early purchasers to start going in for sports and lead a much healthier lifestyle. As shown in the chart below, 75% of the smartwatch buyers have started standing more, 67% have started walking more and 57% have started exercising more with the Apple Watch on their wrist. In general, most of the customers indicated that the device encouraged them to be more physically active and in such a way changed their daily routine. The survey was conducted among 1000 early Apple Watch buyers, that is why the results can be called objective.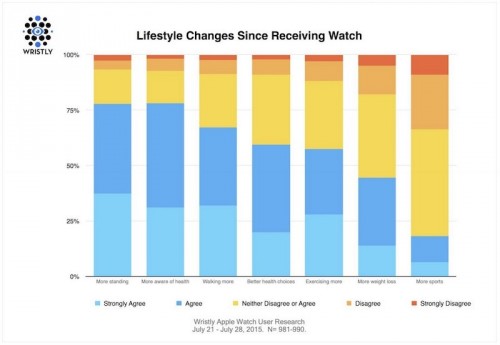 Greater than 75% of survey participants among Wristly's panel of nearly 1000 Apple Watch buyers indicated that they "Strongly Agree" or "Agree" that they have been standing more since receiving the Apple Watch. Similarly, 67% of participants agreed that they walk more, 59% agreed they make better health choices and 57% said they exercise more often with the Apple Watch.
As noted in the same report, most of the Apple Watch owners are currently satisfied with the health and fitness features embedded to Apple's first-ever wearable device. This is a good sign for the company for Cupertino, I guess.
Looks like I have to buy the Apple Watch. Who knows, maybe this device will change my lifestyle and encourage me to start exercising.
[via MacRumors]

Leave a comment