Apple's Testing New App Store Ranking Algorithms

A research firm Fiksu claims that Apple is now working on new ranking algorithms for both iTunes and App Store, which will include user ratings. So far, the number of downloads of an app per certain period of time has been the main criterion to call it popular. But things seem to have changed.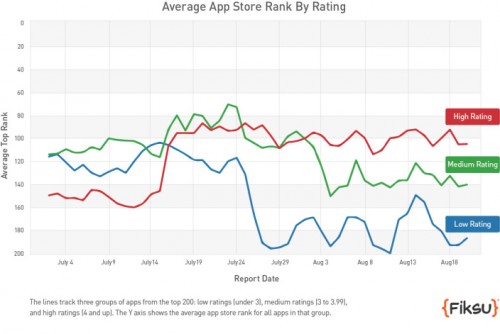 In late July, we first began to notice apps unexpectedly shifting position without a corresponding increase or decrease in downloads. Upon closer inspection, we discovered these position changes correlated with the apps' ratings. As evidenced by the graph below, apps with ratings of 4 or more stars received a rank boost in late July and have maintained that rank throughout August. Poorly rated apps with less than 3 stars received the opposite treatment about two weeks later, dropping off precipitously in rank and staying that way. Average rated apps, between 3 and 4 stars, suffered a slight degradation in rank but have generally been less affected.
The new rating system is far more effective, I guess. And what do you think?

Leave a comment