Armband MYO allows to control Mac with gestures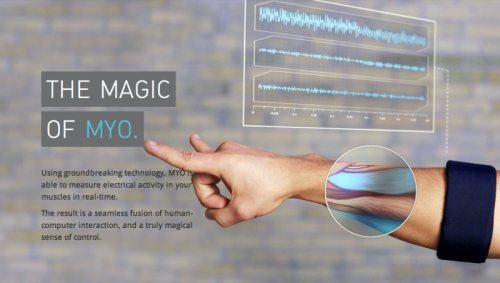 Thalmic Labs has presented the audience a $149 bandage called MYO. It monitors the movement and muscle contractions which allows control user's Mac, PC or other device using gestures (via The Next Web).
The demo video shows how it works. The man looks through the media by waving two fingers in the air (simulating a standard gesture of OS X trackpad), clicks his fingers to start iTunes playback, rotates a fist to increase volume, keeps his hand in position "stop" to pause the video, performs a gesture back to rewind the video and click fingers for video playback. Demo video also illustrates the other notable features of device, from conducting presentations to remote control of vehicle.
Unlike Microsoft Kinect, there is no need to connect the camera, but, apparently, the device will work only with one hand gestures instead of tracking the movements of the whole body.
"Very cool and impressive. I hope this finds its way into our future soon  Steve Wozniak."
MYO connects via Bluetooth and runs from machines based on Mac and Windows. There will also be a programmatic interface for iOS and Android developers. Pre-orders of the MYO will be in limited quantities for the end of the 2013 launch.

Leave a comment