Branson's Project magazine appears on iPad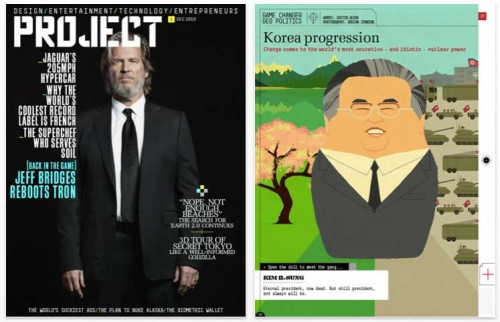 Richard Branson, who is a British millionaire, has finally launched his iPad-only magazine called Project.
The magazine application with the same name recently appeared in the App Store and may already offer its debut issue. The latter was released this Tuesday and has actor Jeff Bridges on its cover to promote his new movie titled Tron:Legacy.

Every individual issue costs $2.99 and may be purchased via Project application. Its proper work is guaranteed on the systems iOS 4.2 or later.
Though the magazine includes unique and exclusive content, the application has been criticized for its complexity and touch-based interface. While there is a help page, it contains only one one-page manual with explanation of such features like "Spine", "Plus Panels" and "Action Button".
It is rumored, that Apple will be holding a media event on December, 9, where the magazine will supposedly be officially released. According to another rumor, many print executives will visit this media event, as Apple is going to introduce a new way of subscription for magazines and newspapers on the iPad.
The Project application can be downloaded for free here.

Leave a comment