Casio Announces 'Bluetooth Low Energy' Enabled G-Shock Smart Watch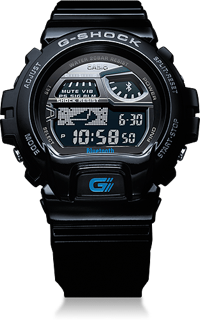 Casio has officially proclaimed the Bluetooth G-Shock smart watch. A 180$ watch supports Bluetooth v4. Although the watch will compete with wrist Pebble e-paper model, G-Shock is in a slightly different category.
It is much traditional wacth that looks more similar to other models of G-Shock watches, water resistant if diving to a depth of 200 metres, and have measurable fewer functions by means of broadband Bluetooth v4 connection than Pebble. While working together with the iPhone, the smart watch by Casio can automatically install its own time, announce  incoming calls and emails and determine the location of the iPhone.
At the moment the watch works only with the iPhone 4S and iPhone 5. They support the Bluetooth specification with low energy consumption. Casio isn't the only company that uses the specification to low energy consumption via Bluetooth; Pebble watch and other brands also use similar technology.
There are a number of other possible uses for Bluetooth LE, including heart rate monitors, proximity sensors, for example, built into the Lockitron lock and much more. However, these products are gradually emerging in the market.
G-Shock uses a simple power source for watches, and the company claims that battery resource should be enough for 2 years when connected to Bluetooth for 12 hours per day.  $ 180 watch has limited availability in retail.

Leave a comment