A closer look at the Apple iPad ad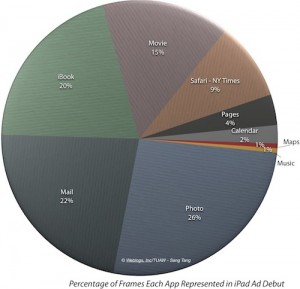 During the iPad presentation, Apple CEO Steve Jobs noted that it would offer a better experience than a smartphone and a notebook computer in the following areas:
Browsing
Email
Photos
Videos
Music
Games
eBooks
Apple recently aired iPad ad during the Oscars, which perfectly reflects this. Tuaw analyzed the video based on the on-air time dedicated to a particular function. It showed that a particular focus was on media consumption appeal and differentiation.
About 80% of all 720 frames (30 seconds * 24 fps) of the iPad's ad showed an app being used. And within this time, the photo app was shown the most (26%), the mail app came in second (22%). iBook app used 20% of time to position the iPad as a perfect eBook reader.

Leave a comment