Foxconn's Working Conditions Are Far Better Than The Norm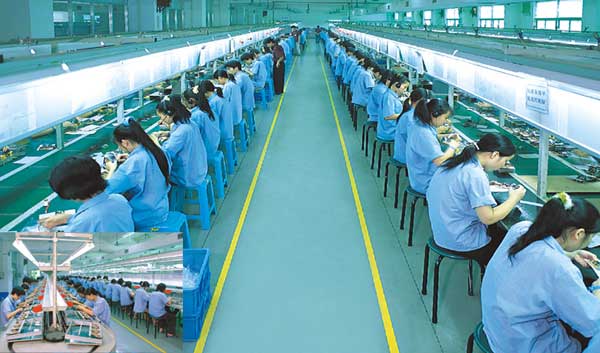 Reuters reports on Fair Labor Association's initial impressions as it conducts its independent audit of working conditions at Foxconn's manufacturing facilities at Apple's request.
According to the Auret van Heerden, the president of Fair Labor Association, Foxconn's manufacturing facilities seems to be "first-class" compared to the garment factories which are typically monitored by the association. He also suggests that boredom and monotony connected with repetitive assembly tasks might be among the main threats to employees' health at the facilities.
After his first visits to facilities, Auret van Heerden said:
"The facilities are first-class; the physical conditions are way, way above average of the norm."

"I was very surprised when I walked onto the floor at Foxconn, how tranquil it is compared with a garment factory".

"So the problems are not the intensity and burnout and pressure-cooker environment you have in a garment factory. . It's more a function of monotony, of boredom, of alienation perhaps".
According to the report, some 30 Fair Labor Association's employees are conducting the audit at three Foxconn's factories representing 300,000 workers. Over three weeks, about 35,000 employees will be anonymously interviewed in groups of about 30 persons entering their responses on the iPads.
During yesterday's interview at a Goldman Sachs conference Apple CEO Tim Cook had much to say on worker safety, noting that the company is working closely with the FLA and trying to be as transparent and proactive as possible in resolving the issues.

Leave a comment