Future iPhones could broadcast preferred communication mode, network status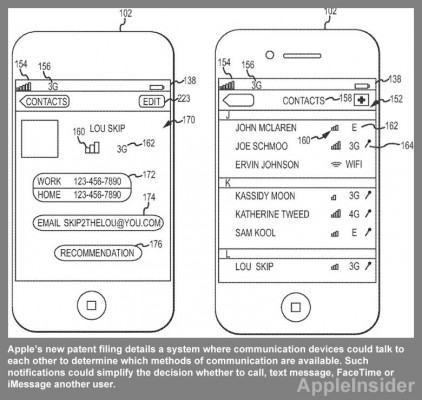 The U.S. Patent and Trademark Offices published on Thursday an Apple patent filing which details a system that could notify other users of preferred methods of communication based on their current network status and relative signal strength. Determining which methods of communication are available, the system simplifies the decision whether to call, text message, FaceTime or iMessage another user.
"For example, a network status may indicate that a wireless device is on a 3G network and has three bars, or that the device does not currently have access to cellular service," Apple's application states. "For example, if a wireless device has two or fewer bars, a text based communication may be recommended, rather than a telephone call."
The patent also tells that wireless devices could be programed to broadcast what types of communication are available and what are not. Apple also proposed an application for wireless operators. The app allows users to periodically report their status.
"In some embodiments, the software may be provided to the device as an app that may be obtained through an online store," Apple wrote. "The app may allow for phone from several operating systems and/or networks to all see each others' signal strength and status."
Unavailable methods of communication could be greyed out, while other services could be color-coded based on signal strength. Preferred modes of communication could be displayed as an ordered list.

Leave a comment